Bio Bidet
BIO BIDET A7 AURA ELONGATED Electronic Toilet Seat | Stainless Steel Jet Wash | LED Panel Controls
BIO BIDET A7 Aura ELONGATED Toilet Seat Jet Wash
LED Side Panel Control New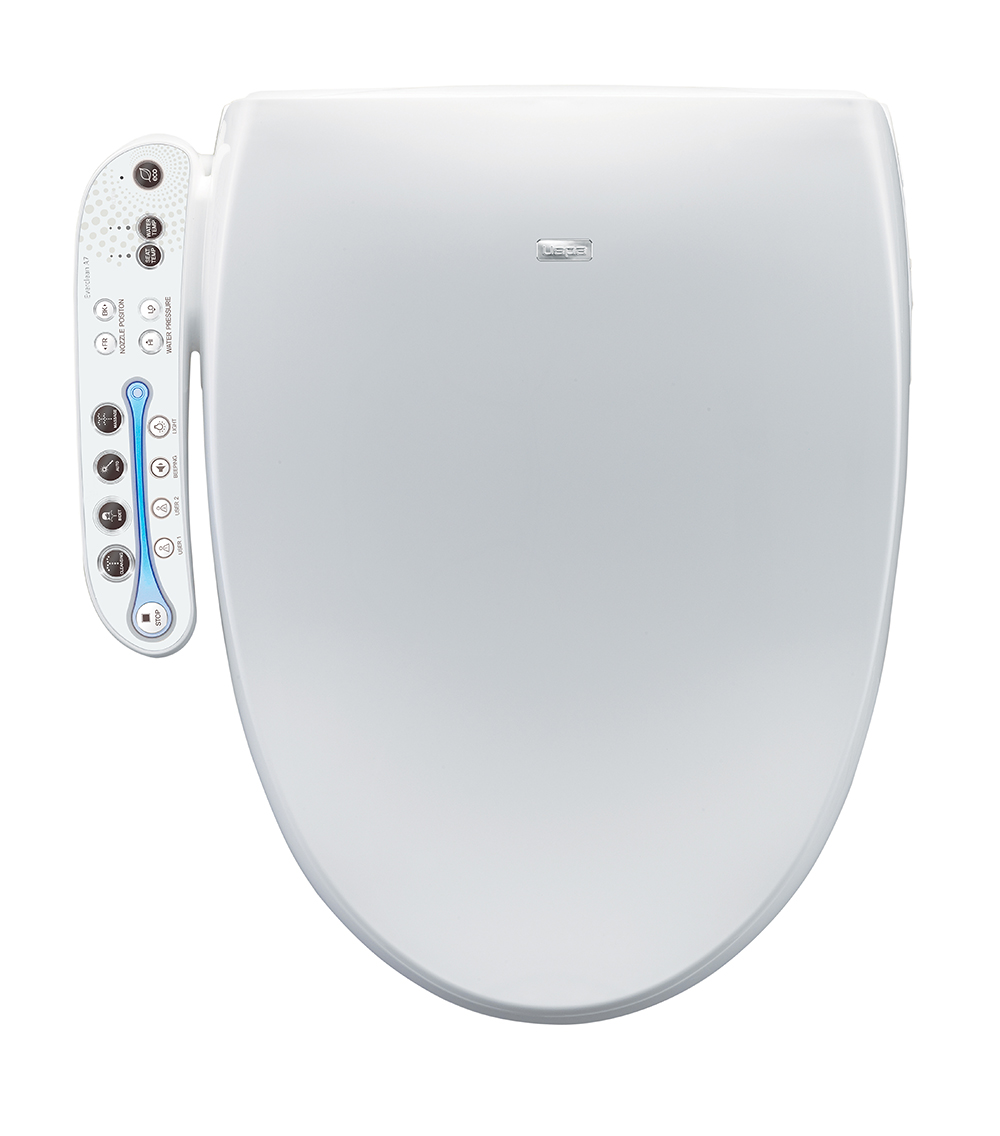 Designed to fit on ELONGATED Shaped Toilets ONLY
(Will not fit on 1 Pc Toilets with a French Curved Water Tank or Round Shaped Toilets)
A7 Aura Bidet Toilet Seat
A7 Advanced Bidet Toilet Seat by Bio Bidet
STAINLESS STEEL NOZZLE
COMPACT REFINED DESIGN
INTERACTIVE LED SIDE PANEL
WARM WATER CLEANING
HEATED SLOW CLOSING SEAT
ADJUSTABLE NOZZLE, TEMP AND MORE
Luxury Class A7 AURA Bidet Toilet Seat
Affordable luxury.
Breakaway from the ordinary with the Bio Bidet Aura A7. 
The Aura A7 is designed to meet the needs of  those looking for a bidet with additional features and durability at a great price. The Aura A7 comes with many of the same benefits of higher priced units without any of the extras that are not needed. Keeping quality in mind while designing this unit, we have been able to keep the most sought after features available. The result is a sleek and technologically advanced seat that offers a complete hygienic solution.  Enjoy all of the benefits of a fully electric bidet in the most streamlined and aesthetically elegant unit yet.
CLEANING FEATURES

CONVENIENT FEATURES

Stainless steel nozzle
Oscillating
Wide cleaning
Pulsating
Massage cleaning
Satisfying posterior cleaning
Soft feminine cleaning
Adjustable nozzle
Nozzle self-clean
Auto wash
User controlled warm water

Animated Response LED Side Panel
User preset
Adjustable heated seat
Night Light
Intelligent body sensor
Splash guard
Slow closing seat/lid
Quick release for easy cleaning
Eco mode
Silient mode
Hide away hose crips
Design.
Experience for yourself what excellence in cleansing technology feels like through a combination of soft aeration and the natural therapeutic qualities of water. Bio Bidet, one of the most globally recognized brands for quality, has designed an exclusive bidet model in its luxury class.
The A7 incorporates the most sought after features a bidet can offer, and the result is a sleek and technologically advanced seat that offers a complete hygienic solution.
Unique Animated Response LED Side Panel.
Finding the A7 in low light situations is seamless. The easily detectable bowl night light will guide you and once there the reliable Animated Response LED side panel will always be within reach. With its intuitive visual indicators you will see your A7 working throughout your cleansing experience.
The relaxing pulse of the cool blue light will indicate that your cleansing sequence is activated. And should you want to end the cleansing cycle, the stop button is conveniently located at the end of the Animated Response LED side panel.
VIDEO of  A7 Aura Click Here
Hideaway installation
The Aura A7 cord is designed to line up along the baseline of the unit either to the left or right: your choice.  The power cord is centered in the back to give you the freedom to swing the cord to either side.  Built-in clips keep the cord snug against the unit to keep things looking fitted and clean.
Cleaning up messes
In more than one way.
Some things should not be seen and nobody wants to see unsightly cords anywhere especially in your bathroom where serene cleanliness is most appreciated.  The Aura A7 comes fitted with both a slim power cord as well as an extra slim water supply hose. 
Along with the hideaway clips on the A7, the power cord and water supply hose can be installed and neatly tucked behind the toilet eliminating any unsightly looping cords.  
Ultra Clean. Stainless Steel Nozzle.
Not coated, not dipped, not sprayed.
We've used pure, solid steel for the Aura A7 model nozzle casing.
Pure stainless steel is extremely durable, resistant to wear and tear, and effortlessly cleaned.
1 YEAR LIMITED WARRANTY.
The best warranty coverage in the industry.
Bio Bidet values your business and always attempts to provide you the very best of service.

Bio Bidet seats come with 100% warranty coverage for 1 full year from date of purchase.

It's commitment from Bio Bidet to maintain a high degree of quality, dependability and reliability.

FAQ


Does the Bidet Seat require electricity?

Yes it does, and it needs to be plugged into an existing outlet with GFI. The Bidet comes with a 4 foot power cord.

How do you get a warm water supply?

Bidet Seat connects only to cold water connection. It has a built in water tank and heater. Water temperature and pressure is electronically regulated for consistency.

Is a professional plumber needed for installation?

All offered Bio Bidet products are designed for D.I.Y. Installation is simple as 1,2,3 requiring no special skill or tools at all.  However, if you have no plumbing experience, hire a professional plumber.

Is it going to fit my toilet?

The A7 Aura is designed to fit most Elongated (egg shaped) toilets bowls

(Will NOT fit 1 Piece Toilets with a French Curve  or ROUND  shape toilets.

For Elongated Shaped toilets ONLY

1. How do I determine my toilet type?

Bidet Seat References.
Toilet References.
Toilet Seat Measurements Guide, Elongated vs. Round
A7 Aura fits Elongated ONLY
Elongated seat is oval shaped seats which is about 2" longer than a round bowl and often found to be more comfortable but in small bathroom, a round bowl can save space.
Toilet Type Guide, 1PC vs. 2PC
One piece toilet has the toilet housed in one complete unit where two piece toilets has a separate bowl and tank. Offered Bio Bidet seat models are designed to fit all 2 piece toilets and most of 1 piece toilets. Only exception will be rare types of one piece toilets with severe French curves where toilet tank connects to the base of toilet such as type C below.
TYPE A and B : YES , TYPY C : NO
What actually happens?
When you press the "cleanse" button, a wand, about the size and shape of a fat pencil (that was previously hidden under the seat) automatically extends, washes itself, and then sprays a carefully aimed aerated stream of water for a few seconds, or until you touch the "stop" button. Then the wand rinses itself off again, and it retracts, out of the way again.
Does anything touch me?
No. The only thing that touches you is water ...nothing else.
How do I know when I am clean?
The engineers have been perfecting the Bio Bidet for over ten years, and millions of them have been sold. They have plenty of research on exactly what it takes. If you have any doubts, you can always press the cleanse button again or check with toilet paper.
How does the dryer work?
Very much like a gentle blow dryer for your hair. The time and temperature are adjustable for your convenience.
Can I flush the toilet "normally' with a Bio Bidet installed?
Yes, although the water supply for the Bio Bidet and the toilet tank is the same, there is plenty of water for both. You can use the Bio Bidet and flush the toilet at the same time, without any problem whatsoever.
How long does it take to deliver?
Most orders are processed and shipped within 72 BUSINESS hours via UPS ground service. Orders should take from 4 to 7 days to deliver.
Your Bio Bidet:
Bio Bidets are designed to be installed onto your existing toilet just using a few tools and plumbers tape.


How to use your Bio Bidet:

When the user is ready to finish up in the bathroom, a simple push of a button will initiate a stream of water.

The stream can be controlled, and is aimed to cleanse the genital-anal region of the user while still remaining seated on the toilet.  This is far thorough cleaning, making it more hygienic. 

It is also far superior over the conventional bidets because toilet seat Bidets do not require the additional space to install, but best of all, it allows the user to remain seated instead of having to move over to sit on the bidet after finishing on the toilet.

It is intuitive that because of the anatomy of the area, using a dry toilet paper to clean is inevitably going to leave residues, leaving the area prone for bacterial growth and infections.

As a testament of one of the benefits of water over the paper use, in cultures where water cleansing is traditionally the preferred practice, such as in Indonesia, Middle Eastern or South-West Asian countries, hemorrhoids occur with much less frequency.
(Will NOT fit 1 Piece Toilets with a French Curve)
---
Share this Product
---
More from this collection