Bio Bidet
BIO BIDET BB-i3000 NON-ELECTRIC Universal Fit Toilet Seat | Jet Wash Hygiene | Side Panel Controls
Economy Class Premium BB-i3000 Bidet Seat
Innovation.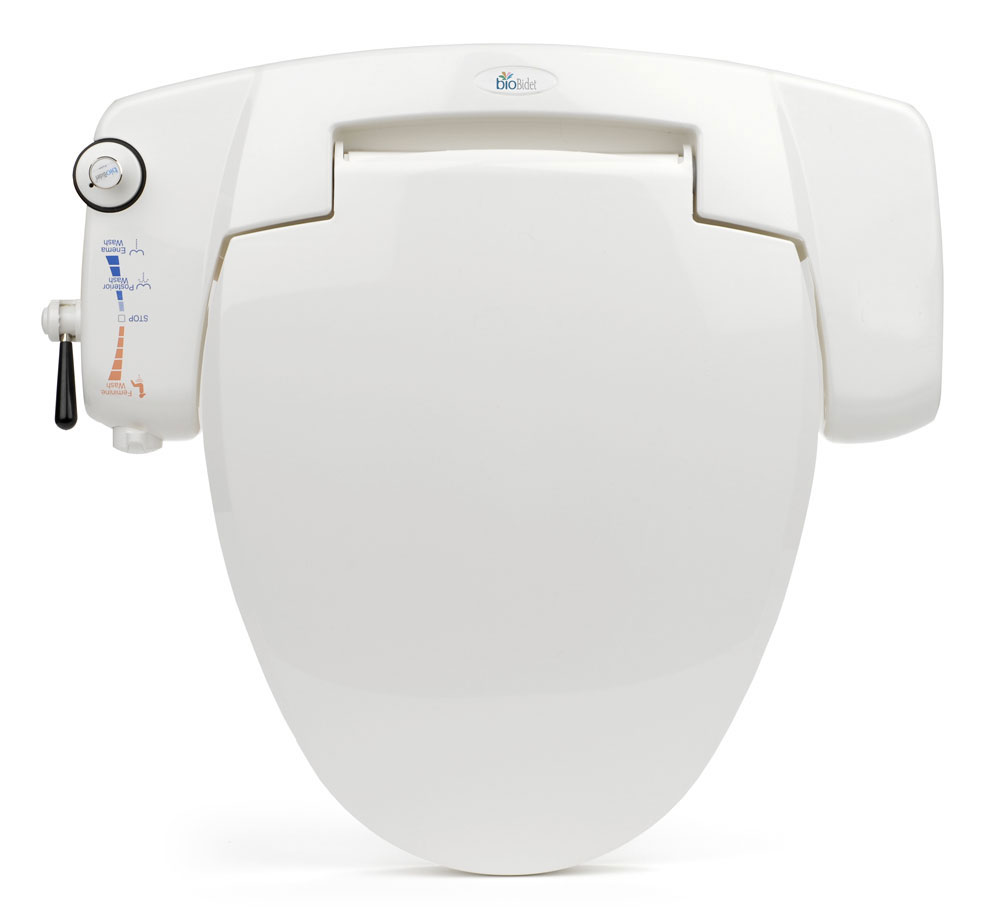 #1 TRUSTED AND RECOMMENDED NAME IN BIDET PRODUCT BIO BIDET proudly introduces the new BB-i3000.
The first ever invention using the latest technology to maximize not only therapeutic benefits to personal hygiene, but to your health!!!
The new "First-Class" i3000 Premium Bidet is unmatched! It's the newest patented technology available in the world.
Introducing the Bio Bidet's patented invention of hygienic nozzle with VORTEX WATER STREAM! The VORTEX water stream has been scientifically designed to surge a mass of water in a helix motion. This whirly mass of water oscillates in helix form and alleviates difficult bowel movement by loosening the dry hardened feces from the bowels. This is a natural and non-abrasive alternative to laxatives!
Bio Bidet will give you the Best Warranty and the Best Customer Satisfaction!!!
    FEATURES & FUNCTIONS


Bio Bidet BB-i3000 Video Library Click Here
    WHAT'S IN THE BOX
    * Patented vortex nozzle system
    * Dual nozzle
    * Slow easy closing seat and lid

    * Easy D.I.Y installation
    * No electricity or batteries required
    * Room temperature water
    * Exclusive soap dispenser
    * Self-cleaning nozzle
    * Adjustable water pressure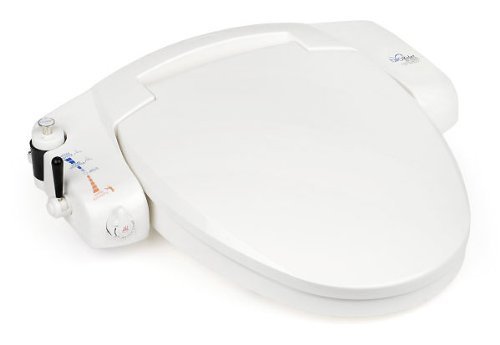 * Adjustable water temperature
    * Cold water by-pass
    * 2ea 3/8" brass T
    * 1ea Water supply tubing
    * 1ea Braided fill valve water supply hose
    * 2ea Mounting bolts
    * 1ea manual
    * 2ea cone packing
    * 2ea washers
    * 2ea nuts
    * 2ea bolt guides
One of a Kind.
Introducing the Premium BB-i3000
The one of a kind Premium BB-i3000 is a non-electric bidet seat that requires no batteries or electricity and is only powered by your home's fresh water supply.
Special features on the BB-i3000 not found on other non-electric bidets include the helix motion enema wash and feminine soap dispenser.
Adjust the water pressure and temperature easily with an easy to use lever control and dial. As the most fully-featured non-electric bidet seats, the Premium BB-i3000 fulfills every cleansing need at an advantageous price with easy D.I.Y installation and no additional plumbing or electrical requirements.
BB3000 Slow Closing Seat
Economical with Features Galore.
What makes the Premium BB-i3000 unique
The Premium BB-i3000 has long been one of the more popular models due the easy control system and versatility as a non-electric bidet.
Designed to be a "one size fits all" bidet seat, the BB-i3000 has features that aren't present on traditional non-electric bidets such as a built-in soap dispenser and Helix Motion Enema Wash. The BB-i3000 is the perfect solution for those who want as many features as possible on their bidet without using electricity.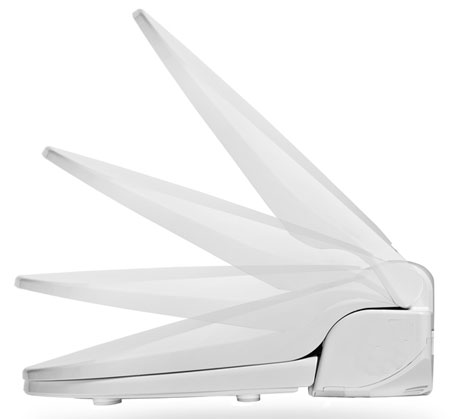 Non-Electric
No electricity of battery is needed.
BB-i3000 is direct water connection that requires no batteries of electricity. You can either connect hot and cold water or only cold water for both inlets to use it with room temperature water.
Built-in mixing valve mixes water to deliver desired water temperature.
One and Only Feminine Soap Reservoir
For an ultra clean experience.
The Premium BB-i3000 is the first and only bidet to feature a soap dispenser to be used in conjunction with the feminine wash.
As the first medically approved device in South Korea, emphasis was put on the BB-i3000's ability to be an effective lifestyle device to promote healthier living and optimum hygiene.
By simply filling the soap reservoir with mild feminine wash, you get a fresh spa clean feeling every time you use your Premium BB-i3000.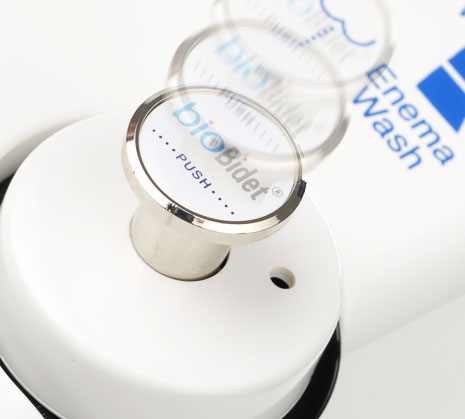 Easy Joystick Control.
Easy controls for maximum cleansing.
Another unique aspect of the BB-i3000 is the joystick control. Instead of a knob that you turn left and right, the Premium BB-i3000 is controlled by a single joystick that easily moves back and forth to select varying water pressures for posterior, feminine, and the Enema wash.
Also on the BB-i3000 are the temperature selection dial and the cold water bypass button that flushes out the cold water in the tubing straight into the toilet.
All features are easy to use and do not require batteries.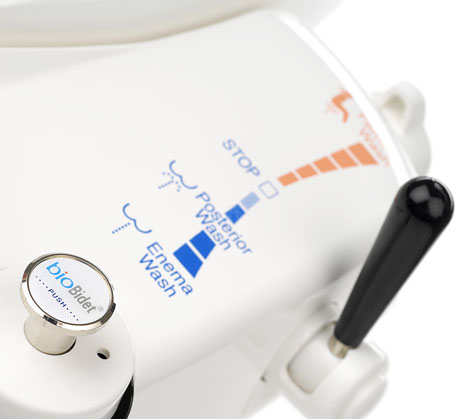 Affordable. Luxury. Convenient.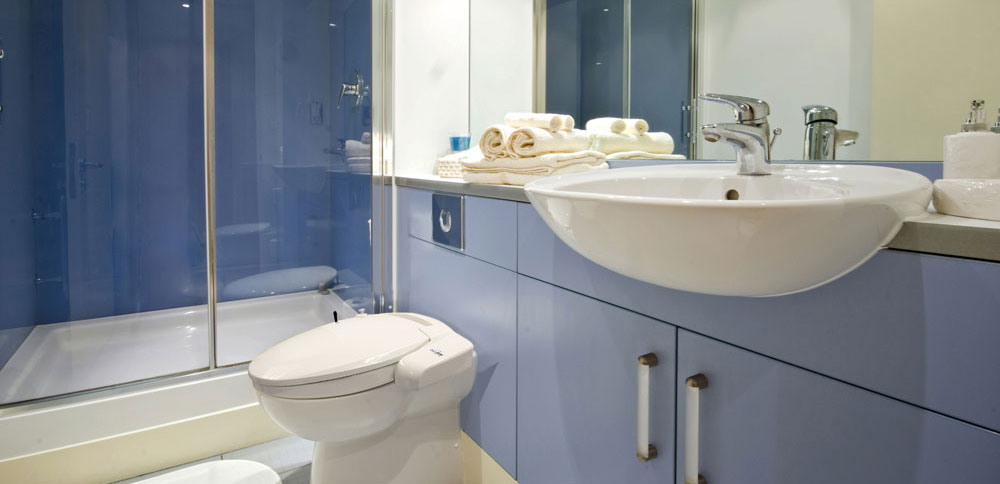 Bio Bidet BB-3000 
1 YEAR LIMITED WARRANTY.
100% coverage.
Bio Bidet values your business and always attempts to provide you the very best of service.
Premium bidet seats come with 100% warranty coverage for 1 full years from date of purchase.
It's commitment from Bio Bidet to maintain a high degree of quality, dependability and reliability.
FAQ
Q. Does Premium Bidet Seat require electricity?
A. No it does not. BB-3000 is non-electric model that does not require electricity or battery.
Q. how do you get a warm water supply?
A. BB-3000 comes with unique mixing valve that mixes how and cold water. For safety reasons, maximum water temperature will be just about at room temperature.
Q. Is a professional plumber recommended for installation?
A. All offered Bio Bidet products are designed for D.I.Y. Installation is simple as 1,2,3 requiring no special skill or tools at all.
Q. Is it going to fit my toilet?
A. BB-3000 is designed to fit most 2 piece toilets. However, some restriction may apply to 1 piece toilets. Please consult with one of professional sales reps.
Q. How long does it take to deliver?
A. Most orders are processed and shipped within 24 hours via UPS ground service. Orders will be shipping out of local dealers in your region and should take from 2 to 6 days to deliver.
Manuals & Resources
Manuals, Specifications, Measurements and much more.
Owner's Manual  Click Here
Quick Guide  Ckick Here
Bidet Seat References.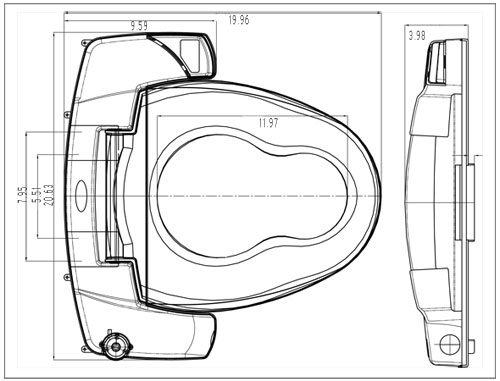 Toilet References.
Toilet Seat Measurements Guide, Elongated vs. Round
Elongated seat is oval shaped seats which is about 2" longer than a round bowl and often found to be more comfortable but in small bathroom, a round bowl can save space.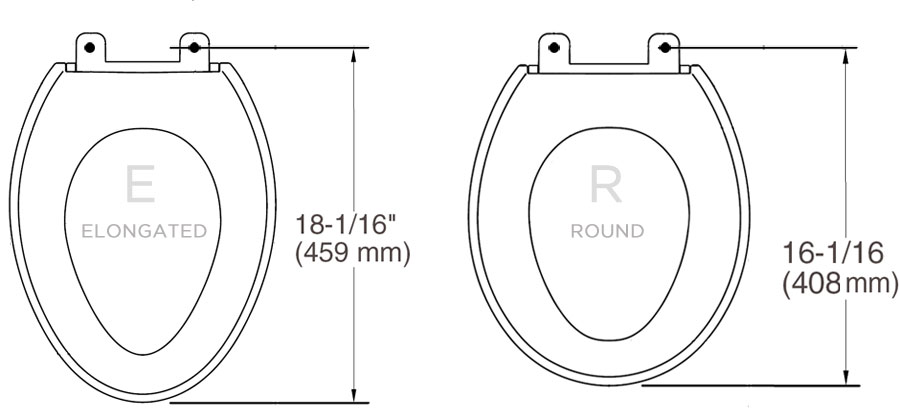 Bio Bidet Toilet seat sizes
Toilet Type Guide, 1PC vs. 2PC
One piece toilet has the toilet housed in one complete unit where two piece toilets has a separate bowl and tank. Offered Bio Bidet seat models are designed to fit all 2 piece toilets and most of 1 piece toilets. Only exception will be rare types of one piece toilets with severe French curves where toilet tank connects to the base of toilet such as type C below.
TYPE A and B : YES , TYPE C : NO (curved water tank)
Bio Bidet Toilet types



1 YEAR WARRANTY.
BB-I3000 comes with 1 year warranty from date of purchase
100% Coverage of all parts and labor for the entire product for the first year from original date of purchase
Our obligations under this warranty are limited to repair or replacement, at our option, of products or parts found to be defective, provided that such products were properly installed and used in accordance with instructions. Bio Bidet reserves the right to make such inspections as may be necessary in order to determine the cause of the defect. Bio Bidet will not charge for labor or parts in connection with warranty repairs or replacements.
Bio Bidet is not responsible for the cost of removal, return and/or reinstallation of products.
This warranty does not apply to the following items: Damage or loss sustained in a natural calamity such as fire, earthquake, flood, thunder electrical storm, etc. Damage or loss resulting from any unreasonable use, misuse, abuse, negligence, or improper maintenance of the product. Damage or loss resulting from removal, improper repair, or modification of the product. Damage or loss resulting from sediments or foreign matter contained in a water system. Damage or loss resulting from improper installation or from installation of a unit in a harsh and/or hazardous environment This warranty gives you specific legal rights. You may have other rights which vary from state to state.
To obtain warranty repair service under this warranty, you must take the product or deliver it prepaid to a our service facility together with a letter stating the problem, or contact a distributor or products service contractor, or write directly to 205 Bert Street, Algonquin, IL 60102.
This written warranty is the only warranty made by Bio Bidet. Repair or replacement as provided under this warranty shall be the exclusive remedy available to the purchaser. We shall not be responsible for loss of the product or for other incidental, special or consequential damages or expenses incurred by the purchaser, or for labor or other costs due to installation or removal, or costs of repairs by others, or for any other expense not specifically stated above. Except to the extent prohibited by applicable law, any implied warranties, including that of merchantability or fitness for use, are expressly limited to the duration of this warranty. Some states do not allow limitations on how long an implied warranty lasts, or the exclusion or limitation of incidental or consequential damages, so the above limitation and exclusion may not apply to you.
Warning! We shall not be responsible or liable for any failure of, or damage to, this plumbing product or product component caused by either chloramines in the treatment of public water supply or in-tank bowl cleaners containing chlorine (calcium hypochlorite).
Note: The use of high concentration of chlorine or chlorine related products can seriously damage the fittings. This damage can cause leakage and serious property damage.
Return Policy Bidet seat which have been installed or used are non-refundable due to governmental regulations pertaining to personal hygiene products. BBC Innovation cannot accept product returns if the installation hardware kit has been opened or if other signs of use are detected.
How to obtain service:
To obtain repair service under this warranty, you must contact us to obtain an RMA (Return Merchandise Authorization) number. Proof of purchase in the form of a copy of your original receipt must accompany the returned unit for the warranty to be valid. Take or ship the unit pre-paid to the closest authorized service center along with your RMA number and proof of purchase.
To obtain your RMA number and locate the service center location nearest you, call 847.458.2334.
To receive an RMA number or to speak with a customer service representative.
Items must be returned within 14 days .
Refund will be given as Money back or exchange.
Refund policy details:
For Money Back option the returned item(s) must in brand new unused/uninstalled condition and shipped back in re-sellable condition at the buyers expense in the original box and packing. No refunds on bedding new or used. No refunds on bidets that have been installed. No refunds on any sauna that has been used. ALL OTHER RETURNS FOR CASH WILL BE SUBJECT TO A 25% RE-STOCKING FEE from the items vendor. WARRANTY - All items will have a manufacturers warranty policy and return/repair instructions. Customer must contact the manufacturer/distributor about such Warranty issues not Decorate With Daria. Decorate With Daria is not responsible for warranty/customer service issues. Most items that are used for commercial purposes shall VOID any warranties.
---
Share this Product
---
More from this collection