Brondell
BRONDELL BIDET FreshSpa Non-Electric FSW-20 Dual Temp Spa Warm Wash Toilet Attachment
Brondell FreshSpa
Dual Temperature

NON-ELECTRIC HYDRO POWERED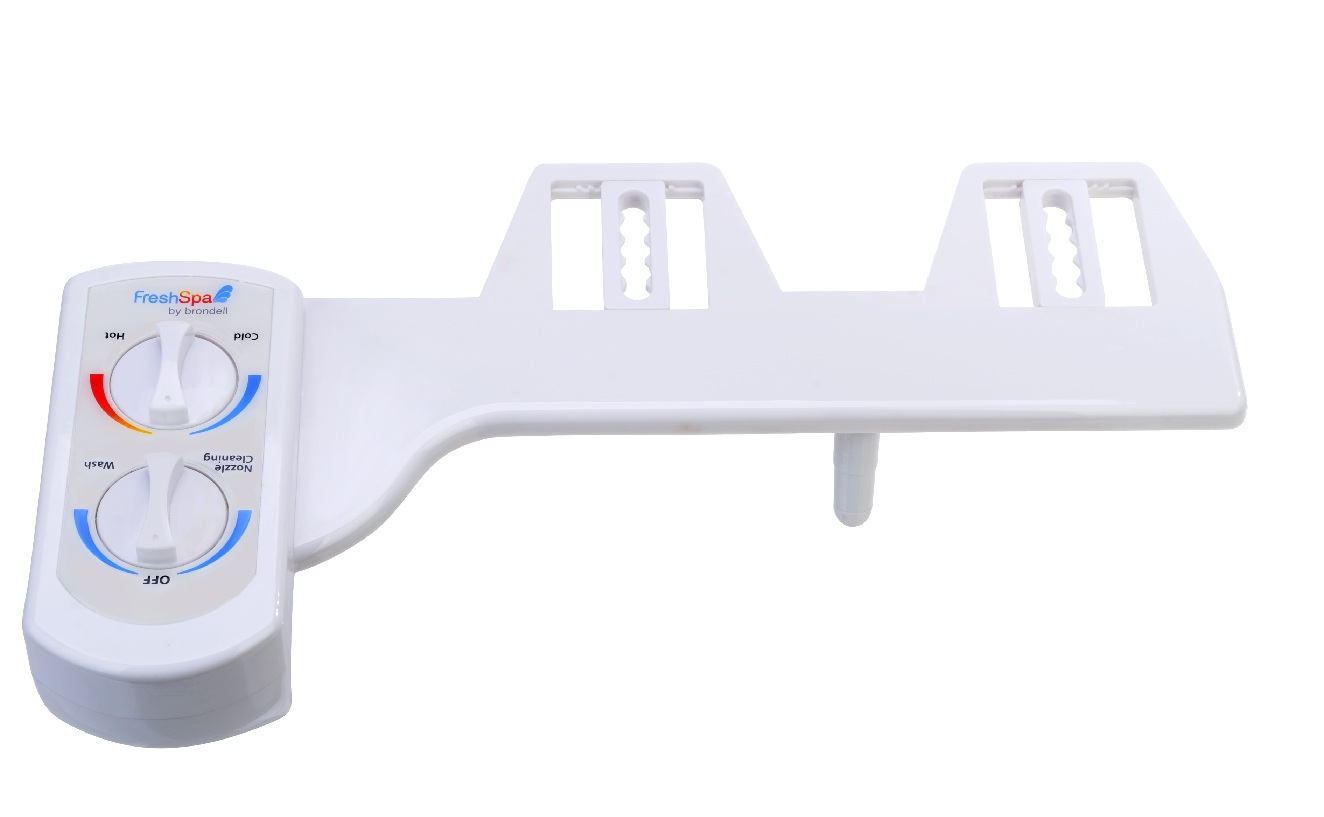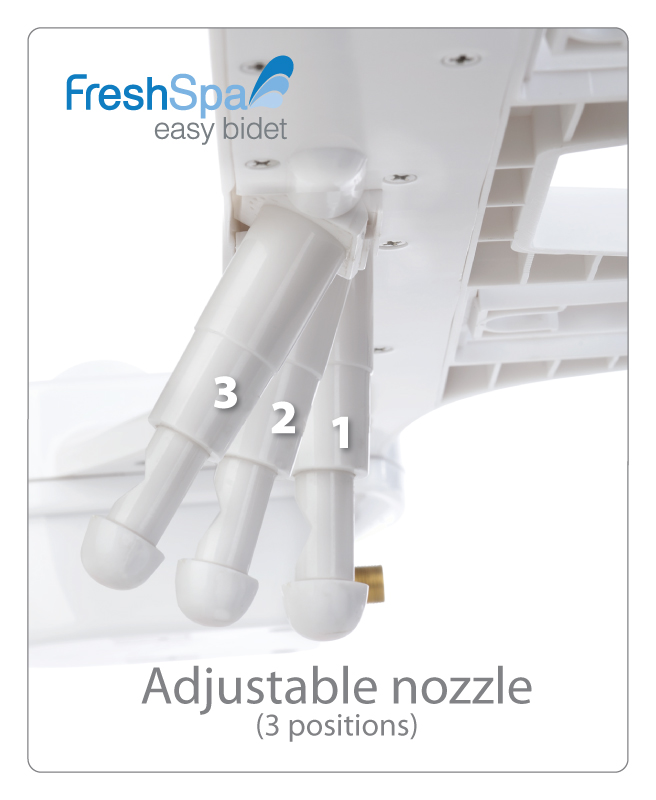 Brand New In The Box Direct From Brondell
Introducing the FreshSpa Dual Temperature - FSW-20
Non-electric Hydro Powered Bidet Attachment
Say goodbye to toilet paper and experience the new clean!

The Brondell FreshSpa dual temperature bidet toilet attachment is a simple and inexpensive way to retrofit your existing toilet into a hygienic bidet.
Made of durable high quality components and backed by our standard warranty and superior customer support, you are making the right decision to buy the FreshSpa – the quality choice for bidet attachments. Why go back to dry irritating toilet paper or expensive baby wipes when you can use the Freshspa!
FreshSpa Dual Temperature Features:
FreshSpa Dual Temperature Features

Hygienic retractable nozzle

Self cleaning nozzle feature

Adjustable temperature bidet wash –

can be hooked up to hot & cold connections

Nozzle positioning (3 settings)

Adjustable water pressure

All brass internal valve (the competition uses plastic)

All brass 3/8" T-valves (the competition uses plastic)

High quality braided PVC hose for cold water connection

Brass pressure connector for hot water connection

Anti-bacterial ABS material with full body panel

Backflow prevention valve

No electricity or batteries required

Easy installation and adjustable toilet fit

All accessories included for standard installation

One (1) year limited warranty
Specification Sheet (PDF)

Why Brondell?
It's simple – highest quality designs backed by superior customer service and value pricing. Compare our FreshSpa dual temperature bidet to the competition and you'll see that most use inferior plastic internal components, plastic connections for the exterior water connections, and plastic T-valves. The Brondell FreshSpa uses a heavy duty solid brass internal valve, solid brass T-valves, a braided PVC hose with metal connectors for the cold water connection, and brass connectors on the bidet attachment. All of the pressurized water connections are made of the highest quality components so there are no messy leaks or drips – it's our guarantee!

Comfort Meets Cleanliness
The FreshSpa dual temperature bidet provides personalized wash settings for maximum comfort. The easy to use controls allow for adjustable water temperature and adjustable water pressure – from a gentle wash to a concentrated stream while the wash nozzle has 3 separate angled positions ensuring accurate coverage for all types of users.

Easy to Install & Easy to Clean
The FreshSpa dual temperature bidet is a snap to install – usually requiring 20 minutes or less. The Freshspa is compatible with all standard 2 piece toilet fixtures and even fits many contoured one piece toilets. The FreshSpa is manufactured with high quality ABS plastic and has a full body panel making it simple to keep clean. The self cleaning nozzle function makes the FreshSpa bidet attachment a breeze to maintain and provides the ultimate hygienic experience.
 
What's included in the box?
FreshSpa dual temperature bidet toilet attachment

Two 3/8" solid brass T-valve connectors

Braided flexible PVC cold water bidet hose

6' flex tubing for hot water connection

Rubber O-rings for all metal connections

Owner's manual with installation instructions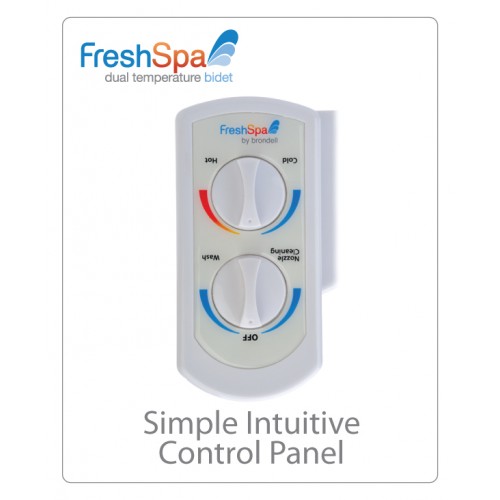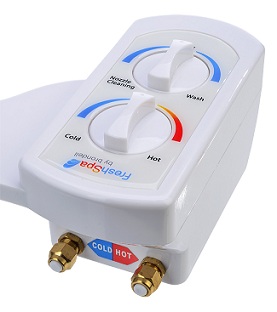 Do I need an electrical outlet?

No.  The FreshSpa does not need electricity or batteries.  It is hydro-powered by your water pressure.
Does the FreshSpa have warm water?
Yes but only if you attach it to your hot water line, FreshSpa has no heater.
CA and WY Residents Must Pay State Sales Tax
Return Policy - Exchange or Repair Only
Bidet seats which have been installed and/or used are non-refundable due to governmental regulations pertaining to personal hygiene products.  Brondell cannot accept product returns if the installation hardware kit has been opened or if other signs of use are detected.  

How to obtain service:

To obtain repair service under this warranty, you must contact an authorized Brondell service center to obtain an RMA (Return Merchandise Authorization) number.  Proof of purchase in the form of a copy of your original receipt must accompany the returned unit for the warranty to be valid.  Take or ship the unit pre-paid to the closest Brondell authorized service center along with your RMA number and proof of purchase.
---
Share this Product
---
More from this collection