From
Kohler Novita
, the largest bidet seat manufacturer in S. Korea we are proud to introduce their newest model series. With TFR Hybrid heating, stainless steel covered wands and twin nozzles with silver nano-technology, these are the most technologically advanced bidet seats on the market today. 
Kohler Novita is one of the most respected bidet seat manufacturers in the world.  Loaded with some of the most up-to-date features in the industry, the Novita is truly a top-of-the-line bidet toilet seat.
The technologically advanced Novita has a unique two-nozzle-in-one-pocket design of the wash nozzles features a stainless steel rear-cleansing nozzle, and contained within that is a smaller extendable feminine nozzle. This two-in-one design allows for maximum reach and more personalized comfort for the feminine cleaning function. 
Besides being able to adjust the nozzle position on the Novita users can also adjust the water temperature and water pressure, as well the temperature of the heated toilet seat. 

These adjustable features along with the multiple cleansing functions such as turbo cleansing, air bubble cleansing, and even a child wash feature make the Novita one of the more convenient bidet seats on the market.
Additional top features offered on the Novita include an instant Hybrid water heating system for continuous, on-demand heated water as well as a warm air dry for residual moisture after washing. 

The Novita also comes with a built-in air deodorizer and a power saving mode.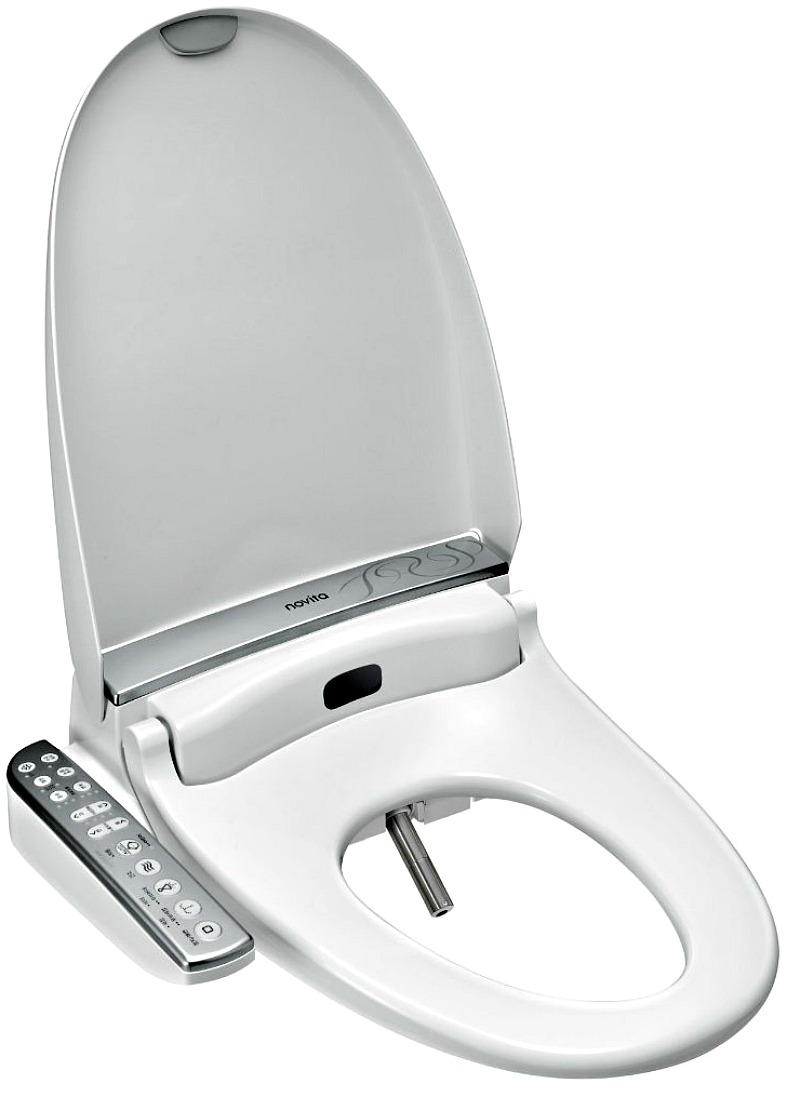 Kohler Novita Bidet Seat BG Series Features:
Side-panel control
Fits 2-piece, and 1-piece toilets with flat tanks
Available in round and elongated seat sizes
Available in white
Brushed stainless steel inlays
Electricity required
Warm seat with infrared (IR) occupied seat sensor
Unlimited warm water
Silver nano-technology for water sterilization
Twin nozzles with stainless steel nozzle body
Moving, self-cleaning nozzles,

with easy to remove nozzle tips

Automatic cycle
Water booster pump switch for more powerful wash
Air bubble wash for more effective cleansing
Massage feature
Warm-air dryer
Child safety feature
Quick-release bracket
Two-stage energy-saving feature
Powerful deodorizer
THREE Year Manufacturer's Full Warranty:
100% Coverage of all parts and labor for the entire bidet for THREE years from original date of purchase.

Novita Product Specifications: